The menorah symbolized the ideal of universal enlightenment 
The seven lamps allude to the branches of human knowledge, represented by the six lamps inclined inwards towards, and symbolically guided by, the light of God represented by the central lamp. The menorah also symbolizes the creation in seven days, with the center light representing the Sabbath. – Source Wikipedia
The David Star on front is customisable so you can download template and make your own graphic, inscription or some wisdom. Since it is graphic you can use any fonts or lines as long the width is minimum 0.7 mm recommended for better view 1.2mm
 
When you get your package you can do photo of it and publish it here. Don't forget to "Heart ♥ it" 😉

Please note that there is slight difference in design impression between large, medium and small size.
Dimensions;
Small Menorah: Cm:9.39 x / 5.04 y / 5.5 z In:3.697 x / 1.984 y / 2.165 z
Medium Menorah: Cm:15.994 x / 9.436 y / 10 z In:6.297 x / 3.715 y / 3.937 z
Large Menorah: Cm:19.19 x / 11.744 y / 11 z In:7.555 x / 4.624 y / 4.331 z
Please be aware that this is REAL piece that you can take in your hands. Image is rendering but you will receive REAL piece NOT 3D Model or 3D Rendering. This is possible because of Shapeways service.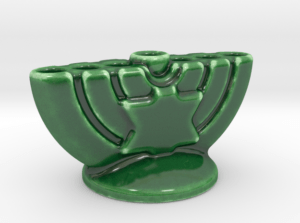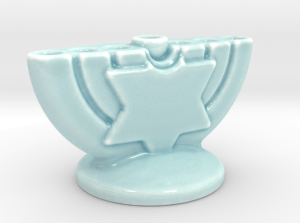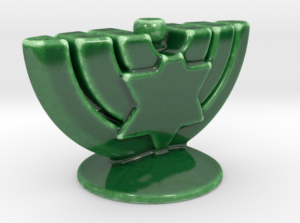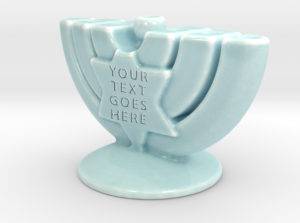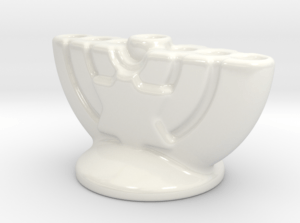 If you like the model "♥ It" on Shapeways page or share it on Twitter / Facebook. Once you get your package you can photograph it and put photo on product page.
Thanks.