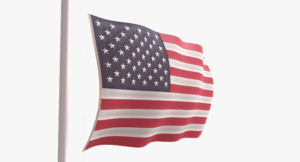 US Flag with different modifiers that can make this flag to wave, bend etc. The model is not animated but has undestructive modifiers that can be easily modified to your needs.

The pole is around 400 cm (4 meters or 157 inches) flag is 190 cm x 100 cm ( 74.80 inches x 39.37 inches). 

The flag is made with all elements as a model and textured in 4K textures in DCC (Vray) and PBR (real-time engines such as Unity) environment for better realism such as folds caused by stitches and Stars looks like made of stitches.

Scene unit is in cm. The scene is lit with 1 Vray Light and 1 HDRI Image.

Elements are grouped by 3 textures sets groups.

Metal_Pole, Blue_Square, and Stripes. Models are made of Metal_Pole, Mechanism, Blue_Square, Red Stripes, White_Stripes all together are placed in Group US_Flag
Please rate model and also I invite you to comment it ;), Thanks.
DC (Production Environment) 4K Textures for each model group

Diffuse 4096×4096
Glossiness 4096×4096
IOR 4096×4096
Specular (reflection) 4096×4096
Normal Map (bump) 4096×4096
Height Map (displace) 4096×4096

PBR (Real Time Engines) 4K Textures for each model group

Base Color (albedo) 4096×4096
Roughness 4096×4096
Metallic 4096×4096
Normal 4096×4096
AO 4096×4096
Scene is lit with one HDRI Image and Sun light