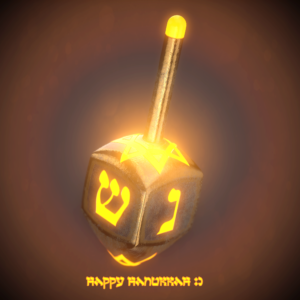 This is Dreidel digital 3D Model textured for DCC and PBR Environment Lit with HDRI Image.
During Holidays this model will be priced for 29 USD and in regular time it will be 49 USD.
There is 1 material in the scene: Dreidel
The unit is in cm, the model is around 4 x 4 x 13.32 cm or 1,57 x 1,57 x 5,24 inches. The scale is 1:1 means this is real size model.
You can download free wallpaper on Zedge:
https://beta.zedge.net/wallpaper/1491e136-2be3-45bd-9a7f-1d95cd850629?utm_source=zedgeWeb&utm_medium=uploaderProfile&utm_campaign=sharing
DC (Production Environment) 4K Textures for each model group
Diffuse 4096×4096
Glossiness 4096×4096
Specular (reflection) 4096×4096
Normal Map (bump) 4096×4096
Height Map (displace) 4096×4096
PBR (Real Time Engines) 4K Textures for each model group
Base Color (albedo) 4096×4096
Roughness 4096×4096
Metallic 4096×4096
Normal 4096×4096
AO 4096×4096
Model is watertight so it is printable, 4K Textures makes this model render in High Resolution, Low poly makes this model to be used in VR/AR/Game/Web Engines.
There is bonus texture you can preview the last image that is made with Bonus Set of Textures.
******************************************************************
NOTES
All model formats are saved as Subdivision 0 means you can use Subdivisions in your favorite program
This is 3D Model, when you purchase it you will be able to download all models and textures!
Images are NOT ALLOWED to use without model purchase, Thank you.
.DAE, .FBX, .OBJ .3DS are not native formats so it is possible that your program doesn't show textures (such as blender) you will need to apply textures or you can contact Technical Support
If you have any problems with model conversion please contact Technical Support
Please rate model and also I invite you to comment it ;), Thanks.
DC (Production Environment) 4K Textures for each model group
Diffuse 4096×4096
Glossiness 4096×4096
Specular (reflection) 4096×4096
Normal Map (bump) 4096×4096
Height Map (displace) 4096×4096
PBR (Real Time Engines) 4K Textures for each model group
Base Color (albedo) 4096×4096
Roughness 4096×4096
Metallic 4096×4096
Normal 4096×4096
AO 4096×4096
HDRI Light Map (.EXR 32 bit)
5000px x 2500px