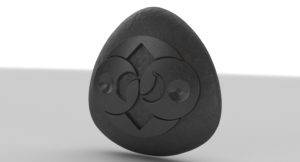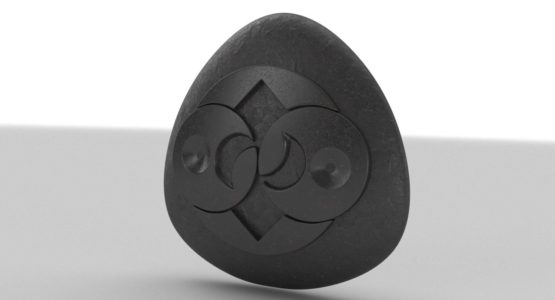 On September 4, 2004, Robert L. Ridge, a 56 year old owner of an auto body shop in Roswell, NM, claims that he found this rock, The Roswell Rock (TRR) at around 2 PM, in a remote area, while he was out bow hunting.
Crop Circle at Chiseldon, U.K., reported August 2, 1996.
No matter do you believe it is made by extraterrestrial force or by humans, the geometry (mathematical) art is kinda unique.
The model is made of 4 elements that can be easily detached but UWV map is non overlapping and material is single.
The model comes with 1 sets of 4K materials. One set is Metalness/Roughness PBR Environment suitable for real-time engines and the second set is for DC Glossiness / Specular Environment suitable for Production renderings such as Vray. The model is watertight and it is possible to use it on 3D Printers.
It needed approximately 8 hours to polish this product. from modeling, UVW Mapping, Texturing in both environment.
Here are few stats about the scene.
The unit is in cm, the model is around 5.83 x 1.71 x 5.86 cm or 2.30 x 0.67 x 2.31 inches.
Resizing model should not be a problem.
Roswell Rock
Polys: 10,155
Verts: 10.165
DC (Production Environment) 4K Textures for each model group
Diffuse 4096×4096
Glossiness 4096×4096
Specular (reflection) 4096×4096
Normal Map (bump) 4096×4096
Height Map (displace) 4096×4096
PBR (Real Time Engines) 4K Textures for each model group
Base Color (albedo) 4096×4096
Roughness 4096×4096
Metallic 4096×4096
Normal 4096×4096
AO 4096×4096
Model is watertight so it is printable, 4K Textures makes this model render in High Resolution, Low poly makes this model to be used in VR/AR/Game/Web Engines.
There is bonus texture you can preview the last image that is made with Bonus Set of Textures.
******************************************************************
NOTES
All model formats are saved as Subdivision 0 means you can use Subdivisions in your favorite program
This is 3D Model, when you purchase it you will be able to download all models and textures!
Images are NOT ALLOWED to use without model purchase, Thank you.
.DAE, .FBX, .OBJ .3DS are not native formats so it is possible that your program doesn't show textures (such as blender) you will need to apply textures or you can contact Technical Support
If you have any problems with model conversion please contact Technical Support
Please rate model and also I invite you to comment it ;), Thanks.
DC (Production Environment) 4K Textures for each model group
Diffuse 4096×4096
Glossiness 4096×4096
Specular (reflection) 4096×4096
Normal Map (bump) 4096×4096
Height Map (displace) 4096×4096
PBR (Real Time Engines) 4K Textures for each model group
Base Color (albedo) 4096×4096
Roughness 4096×4096
Metallic 4096×4096
Normal 4096×4096
AO 4096×4096
HDRI Light Map (.EXR 32 bit)
5000px x 2500px