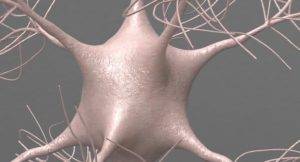 This is Motoric Neuron made as a polygonal model with quads only. The model is unwrapped and manually textured. There are two sets of textures; for real-time engines (PBR Metal/Roughness) and for Production renderings (Specular / Gloss) both in 4K.
All elements (objects) are merged into single model Even it is made of Neuron Body, Nucleus, Schwann Cells and own Nucleus. Elements can be easily detached.
The model is made of 51,258 Quad Polygons and 51,290 Vertices. Model is watertight.
You can use this model, for renderings, 3D Printing or animate. You can use Subdivision Iteration without changing the overall look.
Real-Time engines don't support translucency and refractions on transparency. So you can tweak shader in your favorite software these two parameters to get interesting renderings. You can assign different shaders to material ID.
There are several formats included, all are same even Scene file is using the same model just more instances to get rendering from the preview image.
The unit is in cm, the model is around 6.20 x 6.12 x 9.59 cm or 2.44 x 2,41 x 3,78 inches. The scale is 1000:1 means this is 1000 times bigger model than actual size.
DC (Production Environment) 4K Textures for each model group (.PNG)
Diffuse 4096×4096
Glossiness 4096×4096
Specular (reflection) 4096×4096
Normal Map (bump) 4096×4096
Height Map (displace) 4096×4096
PBR (Real Time Engines) 4K Textures for each model group (.PNG)
Base Color (albedo) 4096×4096
Roughness 4096×4096
Metallic 4096×4096
Normal 4096×4096
AO 4096×4096
HDRI Image .EXR 5000 px x 2500 px
Please rate model and also I invite you to comment it ;), Thanks.
DC (Production Environment) 4K Textures for each model group
Diffuse 4096×4096
Glossiness 4096×4096
Specular (reflection) 4096×4096
Normal Map (bump) 4096×4096
Height Map (displace) 4096×4096
PBR (Real Time Engines) 4K Textures for each model group
Base Color (albedo) 4096×4096
Roughness 4096×4096
Metallic 4096×4096
Normal 4096×4096
AO 4096×4096
HDRI Light Map (.EXR 32 bit)
5000px x 2500px