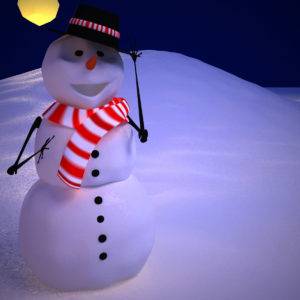 This is interesting vision of Snowman because it looks like it is made in Tim Burton style, a bit scary but again cheerful.
The model is made in 3DS Max and it can be used for Renderings or 3D Prints.
The base model is low poly and extra smoothness you get when you apply TurboSmooth or Meshsmooth in 3DS Max.
This is must if you plan to re-texture or modify model.
This is quad poly simple Snowman with Vray materials.

The materials are made of Vray shader and 3ds Max Procedurals.

Some objects are UWV unwrapped