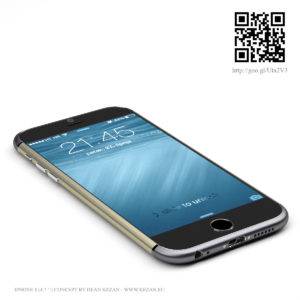 iPhone 6 Concept is concept made according to leaked blueprints and rumors.
The model is Free for download
The model is made in 3DS Max and it can be used for Renderings or 3D Prints.
The base model is low poly and extra smoothness you get when you apply TurboSmooth or Meshsmooth in 3DS Max. This is must if you plan to re-texture or modify model.
This is model of Iphone 6 or at least the rumoured iPhone.

The model is made from leaked images found on net.

Model is actually High Poly with V-Ray Materials.

There are 3 scenes. One scene is prepared for dark environment second is on white background and third is several Iphones with anodized colorful materials.

The Iphone is made of 28 objects and there are 48676 quads 24 tris.