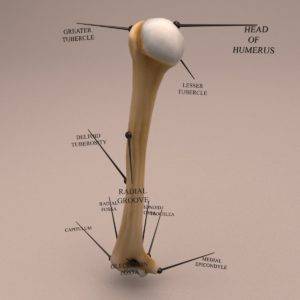 Humerus bone or arm bone is made and prepared for easier understanding bone parts and names.
The model is made in 3DS Max and it can be used for Renderings or 3D Prints.
It is made in highest 3D standard which is given and certified by TurboSquid  with CheckMatePro Certificate.
The base model is low poly and extra smoothness you get when you apply TurboSmooth or Meshsmooth in 3DS Max. This is must if you plan to re-texture or modify model.
This is humerus arm bone made for anatomy purpose.

There are two object;
The Humerus bone – made of 1495 vertices and 1493 quad polys
The Cartilage is one object made of top and bottom Cartilage. There 852 vertices and 848 quad polys.

Both models are UVW Unwrapped and textured. Textures are Diffuse and Reflections 4096×4096 for humerus and Diffuse 2048×2048 for Cartilage.

The V-Ray Renderer was used in preview images but Scanline model is prepared as well for compatibility matter.

For multi language support there is .PSD layered file for easier translation. Once the file is changed it needs to be saved as text.tga with alpha channel.