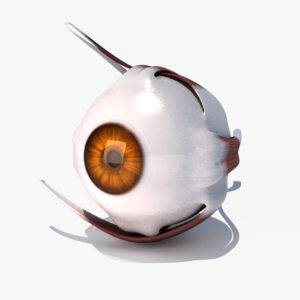 Human Eye Model with top, botttom and side muscle. Iris can be easily changed to different color
Pupil is animated.
The model is made in 3DS Max and it can be used for Renderings or 3D Prints.
It is made in highest 3D standard which is given and certified by TurboSquid  with CheckMatePro Certificate.
The base model is low poly and extra smoothness you get when you apply TurboSmooth or Meshsmooth in 3DS Max. This is must if you plan to re-texture or modify model.
This is realistic model of human eye with it's muscles. It is low poly with meshsmooth modifier on top. The iris is animate able to demonstrate eye contraction of eye muscles in dark and full of light room. t is made with 2 additional morph objects (iris in dark and iris in light environment) To make it easier to use, there is slider on viewport that can be moved from 0 – 100. 0 – in light environment very small pupil, 50 – normal pupil size, 100 – wide open pupil means eye condition in dark environment.

Objects are linked in relation and then linked to dummy object.

Materials are Vray and procedures that comes with 3ds Max. They are full adjustable so you can get any color you wish. The UV are setup on 3 id.