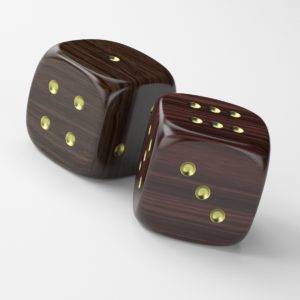 One type of dice that are on the market. The model is UWV Unwrapped quite low poly so it is quite easy to change materials or colors.
The model is made in 3DS Max and it can be used for Renderings or 3D Prints.
It is made in highest 3D standard which is given and certified by TurboSquid  with CheckMatePro Certificate.
The base model is low poly and extra smoothness you get when you apply TurboSmooth or Meshsmooth in 3DS Max. This is must if you plan to re-texture or modify model.
This is model of regular die.

Die has 1498 Polys and 1500 verts. It is Unwrapped and prepared for texturing. The images shows that there are minor texture deformations.

There are 2 polygon ID's so materials can be easily changed.

Also you can see there are 2 UWV channels. Channel1 and channel2.

Texture is not included but you can put any texture

Model is made by quad polys only.

There are V-Ray Materials and scanline materials made for easier format conversion.