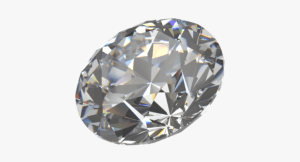 This is a perfect model of the brilliant diamond cut made with quads only. It means that you can use Subdivision Iteration without messing the geometry.
As you can see all polygons are flat except 'girdle' middle part that is a perfect circular shape and shows extra detail where a flat surface is cut by a circle.
Model is made in 3DS Max so it has chamfer modifier that makes customized beveled edges (you can easily modify it) and TurboSmooth to increase mesh density.
You can see from preview images that geometry is consistent and equal.
The polygons are grouped by smooth groups which helps chamfer modifier to chamfer edges.
The scene unit is mm, the diamond is 1 karat which means that dimensions are 6,50mm x 6,50mm x 4,17mm.
There are two scenes; Black Environment and White Environment, the only difference is in rendering settings and not in model or material.
The texture is only one HDRI that is used as a controlled environment in diamond refractions. You can easily change it. Actually, all settings can be easily changed, including lights and material settings (increase/decrease reflections, refractions, diffuse color etc.)
.DAE, .FBX, .OBJ .3DS are not native formats so it is possible that your program doesn't show textures (such as blender) you will need to apply manually textures or you can contact Technical Support for help. Subdivision Iteration is zero and you will need to chamfer edges if you plan to use Subdivision Iterations on these formats.
Please rate model and also I invite you to comment it ;), Thanks.
Scene is lit with one HDRI Image