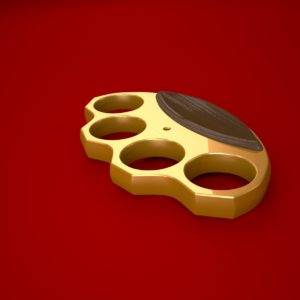 Regular Brass Knuckles made of brass and wood. The knuckle is made in millimiters and quite precise.
The model is made in 3DS Max and it can be used for Renderings or 3D Prints.
The base model is low poly and extra smoothness you get when you apply TurboSmooth or Meshsmooth in 3DS Max.
This is must if you plan to re-texture or modify model.
This is pure quad poly model of Brass Knuckles with TurboSmooth on top of it.

Materials are Vray textures are 1024×1024 noise and wood 2560×1600.

Model is UVW unwrapped so re-texturing is quite easy