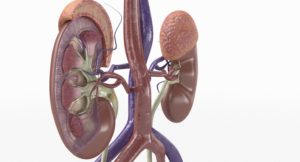 This is remade and improved Human Anatomy model of Female Urinary System (tract). Old model can be found on TurboSquid if you look for model numbered 719167.
The main difference between these two models is that this one is prepared for real-time engines such as Unity or Unreal Engine and few sections are made.
The geometry needed to be optimized, UWV Unwrapped, Materials are grouped into 3 different material sets, textures are handmade in 4K resolution, sections are made throw right kidney, some medullas, right ureter, right part of a bladder so kidney stones are visible.
There are 14 models in scene named correctly and determined by each side (left / right)
Here are few stats about the scene.
Bladder_Gland_Stone (Material Group – UWV)
Bladder – Poly: 5568 Verts:5568
Stone_Kidney_Ureter – Poly: 384 Verts:386
Stone_Kidney_Bladder – Poly: 384 Verts:386
Stone_Kidney – Poly: 384 Verts:386
Right_Gland – Poly: 1488 Verts:1490
Left_Gland – Poly: 912 Verts:914
Kidney_Medulla (Material Group – UWV)
Right_Kidney – Poly: 1888 Verts:1890
Left_Kidney – Poly: 1312 Verts:1314
Right_Medulla – Poly: 32920 Verts:23930 (made of 2 cut and 3 whole elements textured separated)
Vein_Arterie_Ureter (Material Group – UWV)
Vein – Poly: 15856 Verts:15852
Arteries – Poly: 6064 Verts:6066
Left_Ureter – Poly: 3648 Verts: 3650
Right_Ureter – Poly: 3752 Verts:3754
Urethra – Poly: 640 Verts:640
The unit is in cm, the model is around 22.99 x 7.95 x 50.03 cm or 9.05 x 3.13 x 19.70 inches.
Resizing model should not be a problem.
All models together at subdivision 0
Polys: 75200
Verts: 75226
DC (Production Environment) 4K Textures for each model group
Diffuse 4096×4096
Glossiness 4096×4096
Specular (reflection) 4096×4096
Normal Map (bump) 4096×4096
Height Map (displace) 4096×4096
PBR (Real Time Engines) 4K Textures for each model group
Base Color (albedo) 4096×4096
Roughness 4096×4096
Metallic 4096×4096
Normal 4096×4096
AO 4096×4096
Model is watertight so it is printable, 4K Textures makes this model render in High Resolution, Low poly makes this model to be used in VR/AR/Game/Web Engines.
There is bonus texture you can preview the last image that is made with Bonus Set of Textures.
******************************************************************
NOTES
All model formats are saved as Subdivision 0 means you can use Subdivisions in your favorite program
This is 3D Model, when you purchase it you will be able to download all models and textures!
Images are NOT ALLOWED to use without model purchase, Thank you.
.DAE, .FBX, .OBJ .3DS are not native formats so it is possible that your program doesn't show textures (such as blender) you will need to apply textures or you can contact Technical Support
If you have any problems with model conversion please contact Technical Support
Please rate model and also I invite you to comment it ;), Thanks.